Landscape Design Company, San Diego, CA
---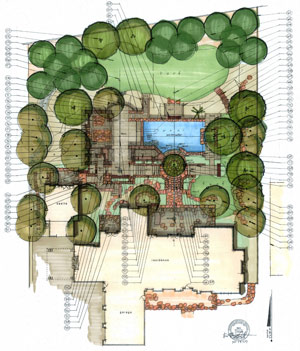 Livingston Associates Landscape Architecture and Planning is a landscape architectural design company serving Southern California including San Diego, La Jolla, Rancho Santa Fe, Encinitas, Coronado, Del Mar, Poway, Riverside, Irvine and within southern Arizona including Yuma, Tucson and Phoenix.
SERVICES
Livingston Associates offers landscape design services from the initial conception of a project through the construction process and onto maintenance of a maturing project.
Landscape Design Consultation, Residential

This on-site consultation is a service for clients who wish to gain landscape design options or discuss specific landscape problems on an hourly basis.



Conceptual Landscape Development Plan

This scaled landscape plan, is a schematic overview of the site, highlighting existing and proposed designed landscape features derived from information gathered from the client and a site analysis survey.



Construction Documents

The construction documents are the detailed set of plans developed from the refinement of the Conceptual Landscape Development Plan. This set of plans may consist of:

construction staking plan
construction specifications
construction details

irrigation plan
irrigation specifications
irrigation details

planting plan
planting specifications
planting details

Bid Administration

Livingston Associates can provide assistance to the client in selecting a contractor bidding on the landscape drawings and receive / approve submittals of products to be used on the project.



Site Observation

Site observation is available through site visits during the construction process. These site visits may address landscape construction issues focusing on issues such as:

grading
drainage
construction layout

construction installation / detailing
irrigation installation / detailing
plant material acceptance / layout / installation

Project Maintenance

Livingston Associates can provide clients ongoing landscape maintenance specifications, requirements and suggestions after installation as the project matures.
---
Call us at
619-583-4166
or
contact us online
for all your landscape architecture needs.
---
Livingston Associates Landscape Architecture and Planning | San Diego, CA

Serving Southern California including San Diego, Rancho Santa Fe, La Jolla, Poway, Encinitas, Coronado, Del Mar, Irvine, Riverside and Arizona including Yuma, Tucson, Phoenix.

Douglas E. Livingston

California Registered Landscape Architect, #2320
Arizona Registered Landscape Architect, #19624